Picture from Japan Times. Signage is used to discourage suicide attempts noting "all life is precious".
I recently mentioned that this time of year, right before the semester began I have been trying to read a ton of fun reads. I have been developing a dark tourism course for the fall 2016 semester. This novel, which is part of the RVA book club, goes right along with my theme. The other possible texts and articles I've been reading for the course are non-fiction; but, I'm thinking this horror novel by Jeremy Bates might be a nice way to break-up a sensitive subject. Instead of a real

story, here is one that is based on the forest.
Suicide Forest
(2014) by Jeremy Bates
Just outside of Tokyo lies Aokigahara, a vast forest and one of the most beautiful wilderness areas in Japan...and also the most infamous spot to commit suicide in the world. Legend has it that the spirits of those many suicides are still roaming, haunting deep in the ancient woods. When bad weather prevents a group of friends from climbing neighboring Mt. Fuji, they decide to spend the night camping in Aokigahara. But they get more than they bargained for when one of them is found hanged in the morning—and they realize there might be some truth to the legends after all.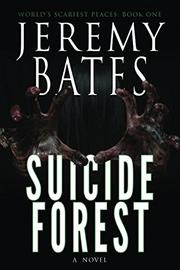 What begins as an excursion to climb Mt. Fuji turns into an almost stereotypical horror movie nightmare when the group of friends enter Aokigahara Jukai. What I enjoyed most about the reading the book, aside from not being able to put it down, was that I felt like I was going along on a hike with a group of people I somewhat knew.
American ESL teacher Ethan Childs planned to climb Mt. Fuji with Mel, his girlfriend, and a few friends. A looming storm and meeting Israeli tourists Ben and Nina changes the plans of the group so that they decide to sleep overnight in Aokigahara Jukai. The forest, which is known for being a place where people take their lives, is also a vast forest with limited trails. It is incredibly easy for travelers to get lost.
What begins as a fun excursion suddenly becomes more than upsetting when one of the group members apparently commits suicide… or was it suicide?

The group becomes lost as they continue to hear strange noises in the woods. While I noted that this feels like a stereotypical horror movie scene, the author takes his time to build up fear in the reader. Are the strange noises in the forest human or are they ghosts?
I don't want to spoil any of the plot but the visuals in the text are great. I could see the forest; and, I could see the characters and scenes that the author wanted me to see. The other parts I was purposely left in the dark. It's a little bit old school Blair Witch

.
It's one of my recent favorite past-paced horror novels.